Why our partners love CheckMyBus
In less than 3 years, we have positioned ourselves as one of the world's most reliable meta search engines for bus travel, not only for our users but also for our trusting partners. We connect 14 different territories in 8 languages and offer 1 million bus connections in over 50 countries and will help you obtain even more visibility in order to increase your ticket sales.
There are plenty of reasons why our partners love working with us and why it just makes sense to become an official CheckMyBus partner. Besides enjoying premium positioning on all major search engines, the CheckMyBus search allows its users to find the right bus operator or GDS in a matter of seconds thanks to its easy and intuitive interface.
We help you multiply your ticket sales by sending the right users your way. Our partners report above-average conversion rates thanks to our users' high purchase intent.
Get in touch: partner@checkmybus.com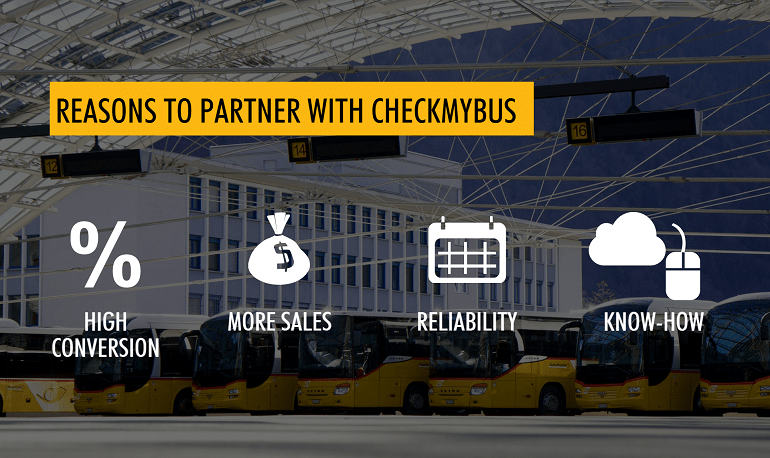 Whether big or small, local or regional, there is always a way to join CheckMyBus. Increase your ticket sales both at home and accross the border and rest assured we will find the partnership model that best suits your needs
No matter if you're an OTA or a GDS, we help you maximize your and your partners' reach by having access to a worldwide community of travelers eager to book bus tickets online.
Institutions and Associations
CheckMyBus has established mutual partnerships with several world-renowned institutions and associations that go from strategically establishing a decisive level of mutual trust to stressing our commitment with sustainable environmental policies
We also have different ways to partner and provide your business with the right type of exposure and visibility. Pair intercity bus travelers with your tourism services, and you have got yourself the perfect users to target.
More info partner@checkmybus.com
Bus operators found on CheckMyBus
These are just some bus operators found on the CheckMyBus search:








See a full list of operators
here
.
GDSs and OTAs found on CheckMyBus
Among the many companies we help to multiply their reach, are the following:




Institutions, associations, and campaigns supported by CheckMyBus

Bus and coach are the best all-in-one transport solution for fighting climate change, improving road safety, connecting with other transport modes, supporting social inclusion and reducing congestion on roads, at minimum costs to tax payers. Smart Move is an initiative founded 2009 by IRU and Busworld to spread the word about these benefits and make bus travel more successful. It is supported by more than 100 leading partners in the bus and transportation sector.


Join the global bus network and increase your ticket sales.
We'd love to hear from you: partner@checkmybus.com